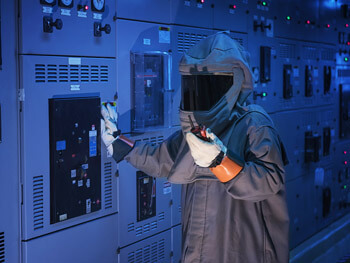 Every single person on our entire team at EMCOR Hyre Electric Co. of Indiana, Inc. is committed to safety. It is the foundation of our company and always a top priority.
We understand that safety doesn't just happen. That's why we maintain a robust safety program that requires continuous education and a proactive approach to every project. Additionally, we invest in the latest tools and equipment, and stay accountable company-wide to current safety policies.
Core Culture of Safety First
Recognizing that safety is everyone's responsibility, our safety committee is comprised of personnel in a wide range of roles who help ensure our policies are current and implemented everywhere we work. To encourage adherence to our policies, we empower our employees to stand up for safety whenever they feel a situation is hazardous or unsafe.
We are steadfastly dedicated to providing our personnel all the training, gear, and management backing they need to protect themselves and others from incidents.
Consistent Zero-Injuries Focus
As an EMCOR company, EMCOR Hyre Electric is proud to be part of a nationwide network of contractors and facilities services providers who are all committed to achieving zero injuries. Because we want everyone to return home safely from every project, we have adopted and adhere to these nine critical components of EMCOR's Zero Injury Performance Plan:
Management commitment
Staffing for safety
Planning for safety
Safety education
Worker participation and involvement
Recognition and reward
Subcontractor management
Accident and incident investigation
Drug and alcohol testing
Learn more about our diligent safety practices by getting in contact with us today.