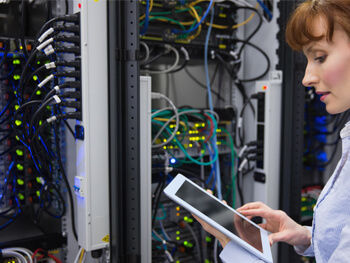 Whether clients need sophisticated telecommunication systems, state-of-the-art automation, or advanced electrical power distribution, EMCOR Hyre Electric Co. of Indiana, Inc. provides a full-suite of data center solutions.
Comprehensive Service from Data Center Experts
As a single-source electrical contractor, we offer end-to-end mission critical services, spanning from the initial core and shell work for wholesale data centers all the way to build outs for existing facilities.
Our team has delivered data centers of all shapes and sizes for a range of industries, including technology, financial services, telecommunications, healthcare, and many more.
Designed for Continuous Operation
At EMCOR Hyre Electric, we understand how vital your data center is to your business. When a system is mission critical, it means failure or disruption is not an option.
That's why we incorporate only the most advanced fail-safe technologies into our data centers. We utilize a number of built-in redundancies, including dual utility feeds, redundant generators, redundant uninterruptible power supplies (UPS), 480v switchboards, cabinets fed from dual sources, and power monitoring that tracks all the way down to the individual circuit level.
Leveraging Cutting-Edge BIM Software
We support our electricians with the latest in electrical construction tools and technology, including state-of-the-art Building Information Modeling (BIM) software. Utilizing BIM on data center projects helps enhance performance, provide greater predictability, improve schedule management, and reduce costs.
Our BIM professionals create functional 4D models for sequencing and scheduling that help us increase collaboration across trades and avoid clashes or rework. BIM models are also important for identifying and maximizing prefabrication opportunities.
Our Mission Critical Services: