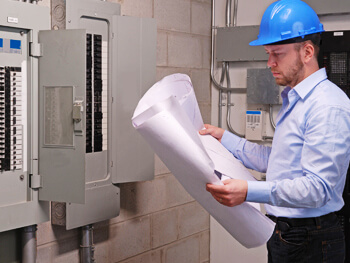 EMCOR Hyre Electric Co. of Indiana, Inc. is a full-service commercial electrical company and contractor serving clients in the industrial, commercial, institutional, and sports/entertainment markets.
We provide a comprehensive suite of electrical services, including design-build, design-assist, value engineering construction, project management, commissioning/startup, and more.
At EMCOR Hyre Electric, the goal is always to offer sound, practical solutions that enable continuous operations, increased cost control, and greater profitability. Our combination of quality, safety, and sophisticated expertise helps us deliver the reliable, responsive systems and services you need for productive facilities, improved energy efficiency, and increased business success.
To help ensure smooth project delivery, we use a proven project management system. It electronically tracks jobs, anticipates problems, and provides realistic solutions that help us get tasks done right the first time, avoid bottlenecks, and deliver electrical systems exactly when you need them.
And, as a subsidiary of EMCOR Group, Inc., we are backed by substantial financial resources, a nationwide network of sister companies, and an industry-leading safety and quality program.
Learn how EMCOR Hyre Electric can help with your next project. Reach out today.